Véronique PIRON, born in 1961, has a wide artistic background which brought her to shakuhachi in 1992.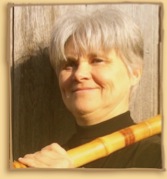 At start
...
Flautist, she was initially trained in Strasbourg (East of France) in Claire GENTILHOMME's flute class at the Music Conservatorium, then in jazz and improvisation at the CEDIM (Center of Education and Development of the Musical Improvisation) with Jean Pierre HERZOG, while leading fine arts studies at University of Strasbourg. She performed then in various groups in Alsace (East of France), jazz and latin-jazz, then in Brittany (West of France) in the jazz orchestra " Sirius " conducted by the pianist Didier SQUIBAN until 1995.


Shakuhachi and Japan...
Véronique PIRON started learning the shakuhachi in France with the school of the famous master Katsuya YOKOYAMA (1934-2010) - KSK, Kokusai Shakuhachi Kenshûkan -, first with Yoshikazu IWAMOTO his first disciple. Laureate of a "Lavoisier" scholarship from the French Foreign Affairs Ministry between 2000 and 2002, she perfected her study directly with Katsuya YOKOYAMA, having Teruo FURUYA as main teacher and Michiko ÔNARI as accompanist playing the koto, shamisen and singing. She also got an initiation of the Jiuta singing style with the shamisen/koto player Kikuko SATÔ.
She got introduced to the bamboo tranverse flutes during her stay with Naoko MIYAMARU (from the Gagaku Orchestra Reigakusha) for the ryûteki, and met the eminent flautist Kohei NISHIKAWA of ProNipponia Group who introduced her to the shinobue and nohkan and shared the recording of her CD Nipponflutes in 2009.

.............Baggage...
.............- professional licence SHIHAN (master) from Katsuya YOKOYAMA
...............and his school KSK (Kokusai Shakuhachi Kenshukan), Japan (2002)
.............- French STATE DIPLOMA, licence for teaching Traditional Music, France (2004)
.............- Conservatorium Professor's Licence ("APTITUDE CERTIFICATE") for Traditional Music,
...............France (2011), shakuhachi, bamboo flutes and traditional music of Japan.

On stage...(perform)
Véronique Piron is mainly performing in solo or in duet with various musicians in France and abroad, including koto/shamisen players and shakuhachi players, participates in different shakuhachi events as the European or International Shakuhachi Festivals (Tôkyô 2002, Sydney 2008, London 2018).
She performs in a traditional and contemporary repertoire, works with composers about new compositions, or on original creative music with the shakuhachi .
She is produced in duet with Fumie Hihara (koto, shamisen, voice) or in trio with Etsuko Chida in a Japanese music programm, in duet with the pianist Lydia Domancich in a original creative programm, and is developing meetings with other musical cultures.
Since August 2017 she is part of the musical team of the equestrian theater ZINGARO in its new creation "Ex-Anima", together with François Marillier, Jean-Luc Thomas and Wang-Li, within in a tour in France until end of 2019.

Teaching, performing here and there (Eu)...(teach)
Based in West of France in Brittany, Véronique Piron has been teaching shakuhachi since 1996.
Engaged in Europe, she is actively participating in 2006 in the creation of the European Shakuhachi Society (ESS) based in London, as its secretary until 2012. At that time she develops monthly lessons in Paris and occasionally in Brussels, she teaches and performs at the annual European Shakuhachi Summerschools (being the organizor with Jim FRANKLIN in 2007 of the 2nd Summerschool in France in Alsace, and co-organizor of the Summerschool 2015 with Jean-François LAGROST in Paris : ESS Summerschools), she develops together with Horacio Curti (Spain) and Jim Franklin (Germany) the European section of the KSK school created by Yokoyama Katsuya, Eu-Ksk.
Véronique Piron is introducing Japanese music and shakuhachi in the conservatorium system in France, for the traditional music classes and flute classes, from local to high education ("Pôle Supérieur d'Enseignement").
She is also a musician at the Museum of Music in the Philarmonie in Paris since 2004, and works with the French media library network since 2006.

Edited...(CD)
She has been participating in different publications and audio recordings.
She self-produced her CD "Nipponflutes" in 2010, and "Suspended Flow" in 2018.
A CD of the duet with Lydia Domancich (and Fumie Hihara as invitee), "Sillage" has been released in 2015, etc.


look to REFERENCES (in Fr)